Questa settimana l'Humble Weekly Bundle è pieno zeppo di BRAWLERS!!!
Per soli 8$ potrete avere titoli per un totale di 93$!!! È meno di un decimo!
Se siete pronti a riempirvi di botte clickate QUI!
I 3 giochi in Pay What You Want (seguite la nostra guida per sapere come funziona) sono: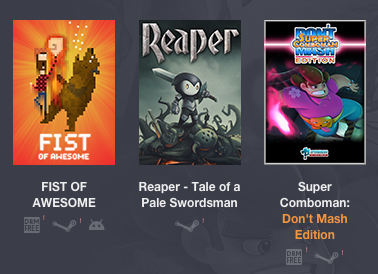 FIST OF AWESOME (3,99€): beat them up dove impersonerete un boscaiolo che dovrà salvare l'umanità da degli orsi despoti a suon di pugni!
In download DRM Free per Mac e Windows, su Steam per Mac e Windows e in download per Android tramite l'App di Humble Bundle.
Reaper – Tale of a Pale Swordsman (4,99€): Action RPG dove deciderete da che parte della barricata combattere nella guerra tra Imperium e le tribù selvagge.
Disponibile su Steam per Windows.
Super Comboman (Don't Mash Edition) (16,98€): action platformer per gli appassionati delle COMBO! In versione Don't Mash Edition con ancora più contenuti.
Disponibile per in download DRM Free e su Steam per Mac e Windows.
2 ulteriori giochi sono disponibili se si dona più della media delle donazioni (al momento della scrittura dell'articolo è 5,10$ ma aumenterà)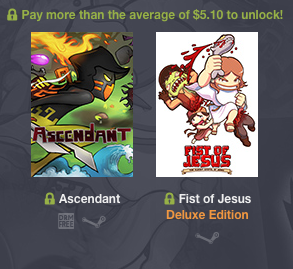 Ascendant (8,99€): rougue like beat the up dove ogni partita sarà in un mondo diverso. Impersonerete un mezzo dio che ha deciso di invadere i piani astrali degli altri dei.
Disponibile per Linux, Mac e Windows in download DRM Free e su Steam.
Fist of Jesus (Deluxe Edition) (8,99€): un beat them up che unisce lo stile arcade, aspetti GDR e molto molto gore. Scoprite cosa sarebbe successo se la resurrezione di Lazaro avesse provocato un apocalisse zombie.
Disponibile per Linux, Mac e Windows su Steam.
Infine gli ultimi 2 giochi si sbloccano solo se la donazione è superiore ai 8$ (con il cambio odierno circa 7€).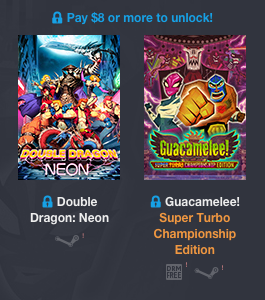 Double Dragon Neon (9,99€): Billy and Jimmy Lee, Double Dragon, dobbiamo scrivere altro?
Disponibile per Windows su Steam.
Guacamelee! (Super Turbo Championship Edition) (17,99€): un action platformer stile Metroidvania. La figlia de El Presidente p stata rapita e tu sei un agricoltore che per sbaglio ho trovato una maschera da Luchador che ti dona i superpoteri. Picchia tutti fino all'ultimo livello.
Disponibile per Windows in download DRM Free e su Steam.
Le associazioni di volontariato che si supportano con questo bundle sono:
SpecialEffect e World Land Trust